Nearly one out of every four adult Americans experiences mental health issues in any given year, says the
National Alliance on Mental Illness
. To put that in perspective, think of all the people you know in your life. How many people is that? Divide that number by four. The result is the number of people in your life who are experiencing mental health issues at any given time.
LGBTQ individuals typically deal with more stress in their lives than non-LGBTQ people. It should come as no surprise, then, that LGBTQ individuals experience mental health issues at a much higher rate than the general population, with LGBTQ youth populations showing the greatest disparities.
New studies are providing insightful data into the causes behind this increased prevalence of mental health issues in our LGBTQ communities. These causes range from LGBTQ individuals being subjected to stigma, prejudice and discrimination; increased stress when dealing with the coming out process (which, contrary to popular belief, is a life-long process that one continually goes through every time an LGBTQ individual meets someone new in their life); being harassed, bullied, or teased; and being subjected to physical violence -- up to and including the fear that a majority of our youth and trans individuals all too-often face for the safety of their very lives.
In fact, LGBTQ individuals can be up to three times more likely than the general population to experience mental health issues, and are twice as likely to commit suicide (with LGBTQ youth being four times as likely to commit suicide than their straight peers).
Many LGBTQ individuals battling mental health issues thus do so on two fronts: they battle the stigma and prejudice of being LGBTQ while they also fight against society's biases against having mental health issues.
Some people report having to hide their sexual orientation from those in the mental health system for fear of being ridiculed or rejected. Some hide their mental health conditions from their LGBTQ friends. As a community, LGBTQ individuals do not often talk about mental health and may lack awareness about mental health conditions. This sometimes prevents people from seeking the treatment and support that they need to get better.
Today, the Bronx LGBTQ Center and
SAGE Center Bronx
announce an event highlighting these issues for May, which is National Mental Health Awareness Month, in the hopes of bringing this often-avoided discussion into the forefront.
On Monday, May 4th, Andrew Cristi's brand-new groundbreaking docu-dramedy about mental illness, addiction, ageism, and being LGBTQ will be screened for the second-ever time. The screening will take place at the SAGE Center Bronx, which is located at 260 East 188th Street (Union Community Health Center's building), 2nd Floor, Bronx, NY 10458.
His film,
Peter Pandrew
(based on his
book trilogy of the same name
), is based on his life as an LGBTQ individual who struggles with bipolar disorder, borderline personality disorder, addiction, ageism, and related mental health issues in a true-to-life fashion.
Without the sugarcoating Hollywood often portrays mental health issues in, Cristi's film has been hailed as a raw, frank look into what living a life as an LGBTQ individual dealing with mental health issues is really like.
The event will begin at 5:30 p.m., with the screening of the 90-minute film to begin no later than 6:30, followed by a
Q&A session with some of the actors from the film, including Mr. Cristi.
Seating is limited, so reserve your space now by registering for a FREE ticket -- it only takes a minute!
Light refreshments will be served.
For more information, contact Peter C. Frank at 914-417-9579 or
via e-mail
.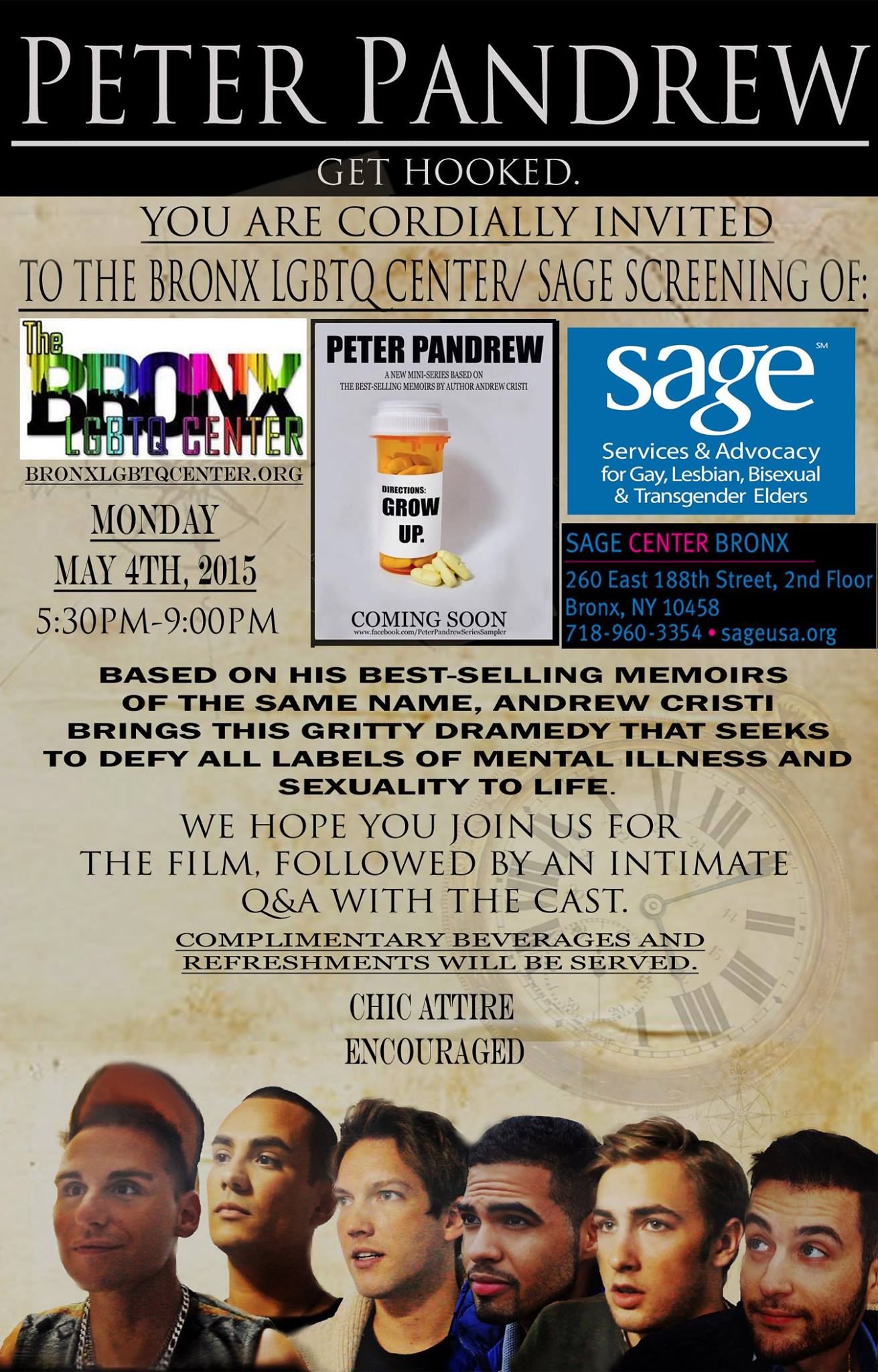 # # #